Do you want to include the Subscriber Count from your ConvertKit Newsletter on your Gatsby.js Site?
If that oddly specific scenario applies to you then read on, and I'll show you just how to do it.
If not, consider checking out ConvertKit anyway. They make it super simple to spin up your own Newsletter and start building out a mailing list today!
Displaying your subscriber count will allow you to take advantage of a psychological phenomenon called "Social Proof". Social Proof is the idea that if something is perceived as "popular", then that thing is worth paying attention to or checking out. By letting prospective sign ups know that you've got the attention of a bunch of other people, they're more likely to also sign up.
It's why things like those "John Smith in Bumfuck, Nowhere just Purchased our Product" popups, and "15 Other People are Looking at this item right now" messages are so popular and prevalent among e-commerce stores. They create a sense of urgency and stokes that "I want to be one of the cool kids" feeling we all seem to have.
I'll leave the psychology to the psychologists, let's dive in.
The first thing you need to do is get your account's API keys from ConvertKit. They're located under Account Settings > General: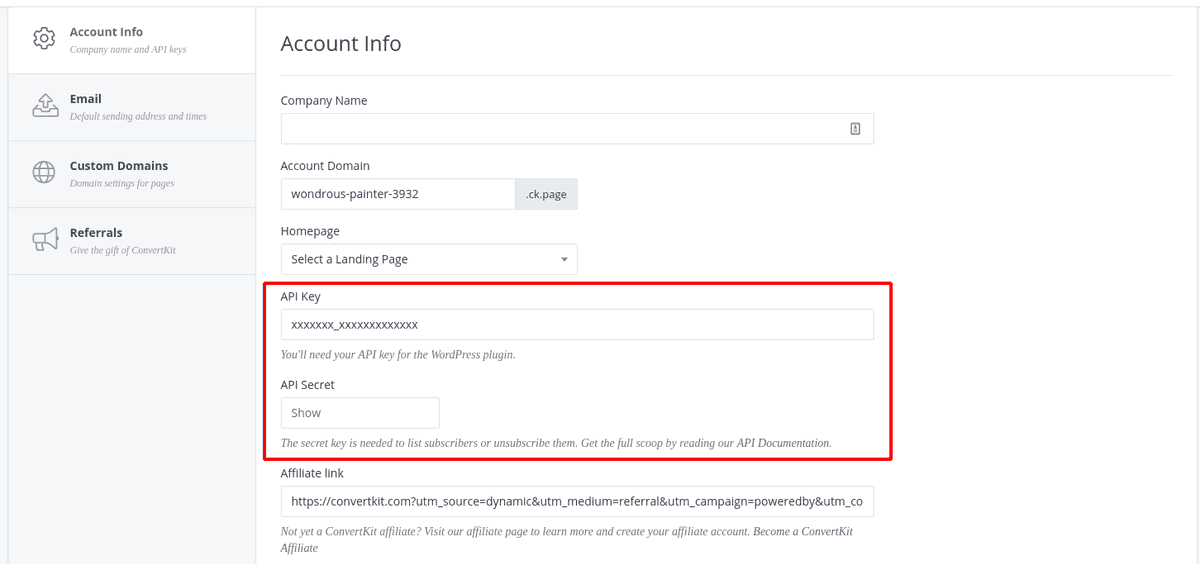 To store your keys securely and away from prying eyes, we're going to take advantage of Environment Variables. If you don't already use them, create a .env file in the root of your Gatsby project, and paste this block of code in there:
CONVERTKIT_KEY=xxxxxxxxxxxxxx
CONVERTKIT_SECRET=xxxxxxxxxxxxxxxxxxxxxxxxxx
Replace the xxxx's with your corresponding API Key and API Secret.
Security
Make sure to include .env in your .gitignore file so you don't check in your keys to your Git Repo. If someone were to get access to your API keys it would be the same as them having your username and password. They can control any part of your account and send a bunch of spam emails to your list. If you're using some sort of Continuous Deployment (CD) setup, you'll also need to include your Keys as Environment Variables according to your specific CD tool.